Grilled Chicken Breasts With Chimichurri Sauce
Maito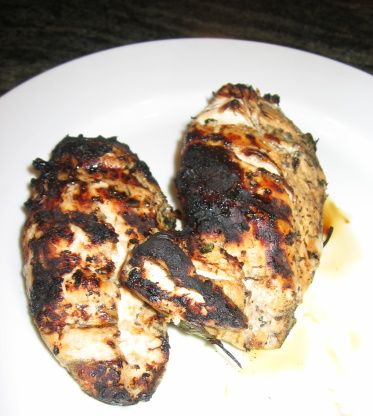 This is from the local paper. I've tried chimichurri sauce once and like it, so I want to try this one. The paper suggests to make the breasts all uniform size for even cooking: pound between sheets of waxed paper with a rolling pin, meat pounder or bottom of a heavy pot. Prep. time does not include marinading time.

We loved this dish! It has a strong flavor that is simply delicious! I didn't include the hot pepper flakes. It turned out great! A definate addition to my recipe box.
To make chimichurri sauce: In food processor fitted with metal blade, puree garlic.
Add parsley and process until finely chopped.
Add 3/4 cup oil, vinegar, water or chicken broth, and seasonings, and process.
Taste for seasoning and adjust if necessary. It should be very flavorful and spicy.
For marinade: In small mixing bowl, combine 3 tablespoons of the chimichurri sauce, with remaining 2 tablespoons olive oil and mix until smooth; taste for seasoning.
Place chicken breasts in a sealable bag and pour in marinade, making sure marinade is evenly distributed.
Zip bag and refrigerate 1/2 hour to 4 hours.
Prepare barbecue for medium-heat grilling.
Remove chicken from marinade and grill about 3 inches from flame, 7 to 10 minutes on each side or until no pink color is showing.
Place on platter and serve with sauce on the side.
Advance prep. tip: The sauce can be made up to 6 days ahead, covered and refrigerated. Remove from fridge half an hour before serving.