Bergy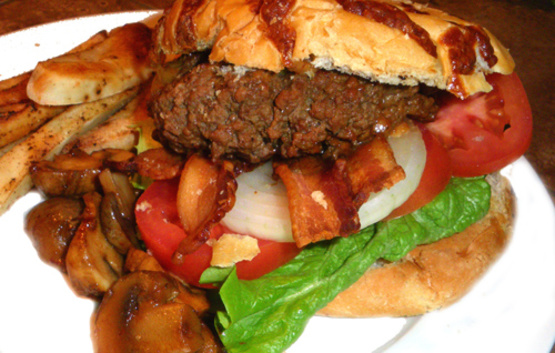 These are delicious juicy burgers.

This is the first time I tried this recipe. We had 8 adults and 2 kids, ages 3 and 5. The party guests were in awe of these hamburgers. I don't make it a habit to try untested recipes on dinner guests but this realy worked out. The two little boys loved them and all of our friends could not believe the flavor and the juicy goodness.
I made 4 times the recipe and made the patties big. I used a combination of chuck and regular ground beef, and I did use the eggs. I threw in a little cyanne pepper for good measure and they were great. I fried extra bacon to put on the burgers and with pickle,lettuce,onion,catsup,mustard,mayo and american cheese, it was as good, if not better than the best burger I've ever had. This is the same thing the party people said too. Don't skip a thing on the ingredients, and you will have the same luck, I'm sure.
In small bowl, combine the egg, cheese, onion, soy sauce, ketchup and pepper.
Crumble beef over mixture and mix well.
Shape into five patties.
Wrap a bacon strip around each; secure with a toothpick.
Grill patties, uncovered, over medium-hot heat for 5-6 minutes on each side or until meat is no longer pink.
Discard toothpicks.
Serve on buns with lettuce, tomato and onion, if desired.