Bergy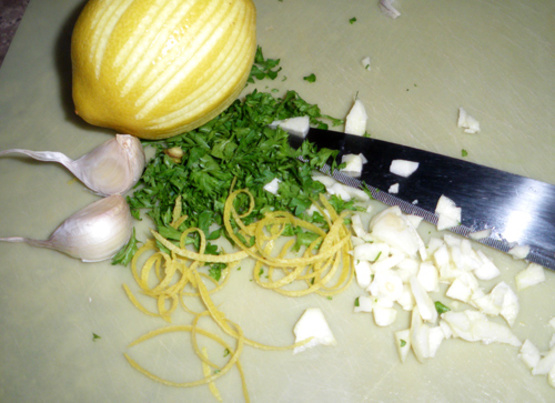 Using the Garlic, parsley, lemon mixture really gives a great flavor treat

Made this for a large group (triple the recipe). I left out the lemon juice when steaming the green beans. The color was good and the gremolata perfectly seasoned the beans. I'm a green bean fan so I've made several times since and enjoy the leftovers all week. Very fresh taste when made with fresh green beans, but I also made with whole frozen beans and can't tell much difference. Thank you!
To make the gremolata: The ingredients must be hand chopped with a knife.
Stir together the zest, parsley, garlic and salt.
Slowly pour in the oil constantly stirring until it is well blended.
It can be kept covered in the fridge for 3 days.
Steam the bean until crisp tender.
While hot, toss with two tablespoons of "Gremolata" and sprinkle with lemon juice
Serve hot or at room temperature (the lemon juice will turn the beans brown so do not do this ahead of time).