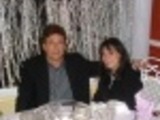 Enjoy this anti-oxidant drink instead of coffee.
Make and share this Green Tea Fruit Smoothie recipe from Food.com.
Directions
Prepare tea by steeping green tea bags in water for 5 minutes. Squeeze out bags and discard.
Combine tea and remaining ingredients in blender and blend until smooth.
Reviews
Most Helpful
I'm giving this drink 4-stars for taste plus it is a great smoothie with anti-oxidant benefits. This drink would be even better, if after the tea was brewed it was chilled an hour or so before being blended with the other ingredients. Currently the 1/2 cup of ice isn't enough to chill the drink and it winds up being room temperature.