momaphet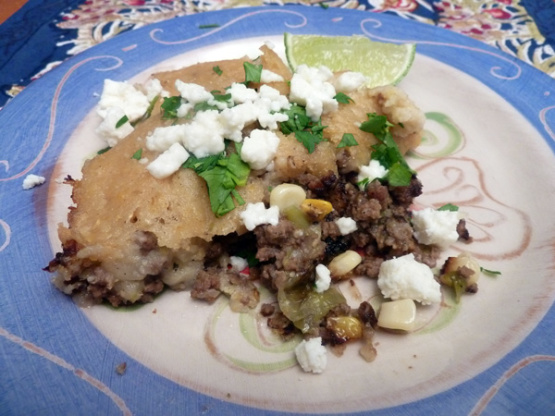 This recipe uses masa harina, which you can find in most grocery stores now. From Mark Bittman.
I'm a bit livid right now so take this review with a grain of salt... First of all, I had to more than double the amount of chicken broth and then add about a cup and a half of water (because I was out of chicken broth) to get the consistency of "cake batter" with the tamale batter. Even at that, I think it was still thicker than cake batter. Now the tamales are cooking and they are coming apart at the seams and flowing all over the bottom of the steamer. All kinds of wasted time and food (money!). Feeling angry.
Preheat oven to 400°.
Combine the masa harina, 1/4 teaspoon salt, and ground red pepper, stirring well with a whisk. Add 1 cup boiling water to masa mixture, and stir until a soft dough forms. Cover until ready to use.
Heat a 9-inch cast-iron skillet over medium-high heat. Add olive oil to pan; swirl to coat. Add beef to pan; cook 5 minutes or until browned, stirring to crumble.
Add onion, garlic, poblano chile, remaining 3/4 teaspoon salt, and black pepper to pan; sauté 5 minutes or until onion is tender, stirring frequently.
Add tomatillos and lima beans to pan, and cook for 2 minutes. Remove from heat.
Add butter and baking powder to masa mixture, stirring until smooth. Dollop batter over filling, and spread into an even layer.
Cover pan with foil; bake at 400° for 30 minutes. Uncover and bake an additional 10 minutes or until crust is lightly browned around edges. Remove from oven; let stand 3 minutes.
Sprinkle with crumbled queso fresco and cilantro; serve with lime wedges.