Green Beans With Walnut Miso Sauce
Barb G.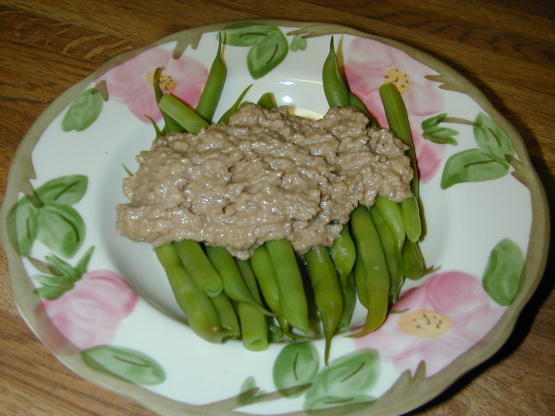 Recipe by chia
from the NY Times, this is very quick and easy to put together.

made this several times now and it is so tasty! i toasted the walnuts before making the sauce, and i think it enhances the flavor. this keeps well in the fridge too. i make up a double batch and then can toss it with my veg at short notice. definitely a keeper!
Bring pot of water to a boil and salt it.
blanch beans in water until they are bright green and just tender, about 5 minutes.
Drain and refresh in cold water, then drain again.
Place in a serving bowl.
Grate ginger over bowl, then place in small fine strainer and press out juice, about a teaspoon.
Combine ginger juice with miso, walnuts, 2 tablespoons water and soy sauce in blender and blend until smooth, stopping machine and scraping down sides if necessary.
(You may add a little water or soy sauce if mixture is too thick.).
Toss beans in sauce, and serve at room temperature.