Green Beans with Sesame & Garlic
KateL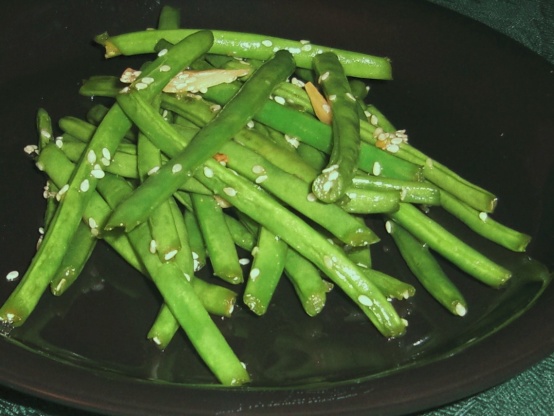 These are green beans with attitude. I think I got the recipe from Vegetarian Times, and it's never missed yet when served alongside a nice piece of fish or tuna steak. I like to cook the beans early in the day so I can throw it together in a snap at mealtime. I also use more garlic.

GREAT recipe-- so yummy! These veggies are not boring ---lots of flavor!
Cook beans 4 minutes, transfer to ice water to stop cooking.
Drain and dry.
This can be done up to 8 hours in advance- store in fridge.
Heat peanut oil in wok over high heat.
Add garlic and stir fry until golden, about a minute.
Transfer to paper towel to drain.
Add green beans, salt and sesame seeds to the wok.
Stir fry 3-4 minutes, pressing beans against side of pan so they char in places.
Combine sesame oil and soy sauce.
Add to pan along with the garlic from earlier.
Heat through (less than a minute) and serve.
These are great hot, room temperature, and even cold.