Green Beans With Pine Nuts
Prose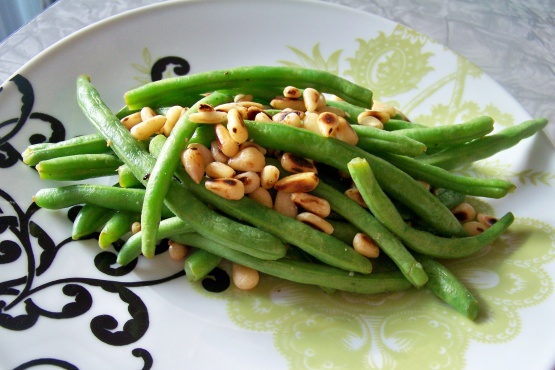 From Healthy Kitchen website

Loved the simplicity of this. I'm sure that the results would have been much better with fresh beans but it still greatly improved the frozen ones that I used. I did steam then a bit longer because I started with the frozen and also DH wants his veggies past the "Al Dente" stage (but I refuse to turn them in to the mush he would really like!). I'm a real fan of the lemon/salt combo and that's all I ever use as salad dressing so this had to be a winner. It will be a great side for almost anything!
Preheat oven to 375°F.
Toast pine nuts in a shallow baking pan in oven 3 to 5 minutes, shaking pan frequently.
Place green beans in a steamer basket over boiling water in a saucepan and steam 7 to 8 minutes or until tender.
Transfer green beans to a serving dish.
Toss with lemon juice, pine nuts and salt and pepper to taste.