Green Bean, Tomato & Anaheim Peppers
Bergy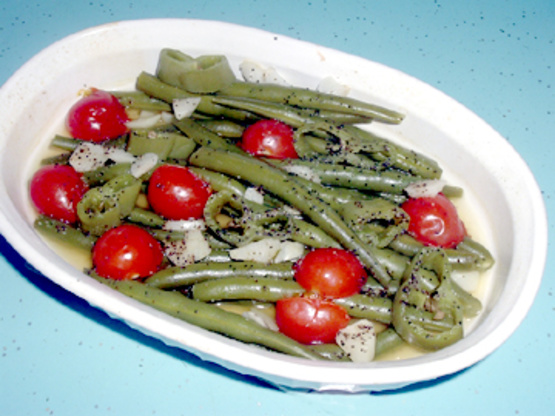 When the garden abounds you need to get a bit creative, You may add cheese, a bit of butter, leave it crisper - it is up to you - this worked for me. If you like leave the curly Q on the end of the bean. For the chicken stock I just use 1 teasp of powdered soup mix and 1/4 cup very hot water. I baked this dish in my toaster oven

I needed to use up a surplus of beans, cherry tomatoes and anaheim chilis from the garden, so this recipe did just the trick. I had a pound of beans so I doubled all of the ingredients. I wonder if this affected the outcome? I definitely had to cook the dish longer and wished it had a little more flavor. I would definitely try the butter and cheese to give it some extra taste. I ended up pouring some olive oil on mine at the end, which helped. This recipe is super easy to prepare. Thanks.
Arrange the beans, tomatoes, peppers,& garlic in an oven proof dish, season with Salt& Pepper.
Pour in the chicken stock.
Cover and bake at 350F for apprx 30 minutes, less if you want the beans crisp.