Cathy17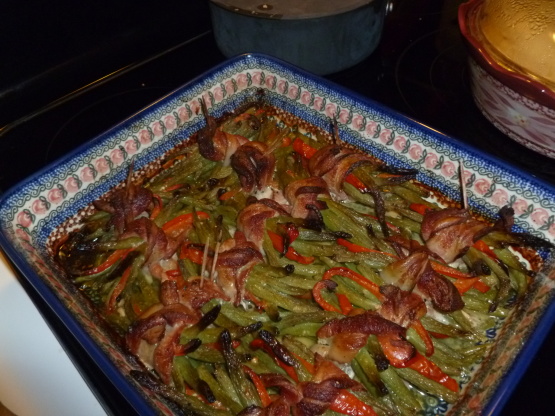 Divinely gourmet! These were wonderful! I chose this b/c it was different from the other bundle recipes here. I had never heard of them before and was looking for a new recipe to try for Canadian Thanksgiving.

These sure were a hit! They are a bit fiddly to make, but so worth it! I used a full piece of bacon and tied it to secure the green beans and red peppers. No toothpicks needed although, I did have to secure a few with toothpicks where the bacon wouldn't cooperate, but that was rare. I doubled the marinade recipe and was worried they would be too greasy, but they roasted perfectly in the oven. I also added quite a bit of garlic from the jar. We like garlic.

Will make these again again. They are really tasty and give a beautiful presentation. They go well with Turkey and I plan to make them at Christmas with Prime rib. Thanks for a very tasty and unique recipe. I wish I could give it more than 5 stars!

The first photo is before cooking, the 2nd is after.
Blanch the green beans in boiling water for about 3 to 4 minutes.
Run under cold water to stop the cooking or plunge into a bowl of ice water. Drain completely and pat dry with a paper towel and put in a casserole dish. Add red bell pepper strips.
Mix together the oil, mustard, garlic, salt and black pepper and pour over green beans and red bell peppers.
Marinate for at least 4 hours or overnight.
Preheat oven to 375.
Make a bundle of 8 or 9 beans and 2 or 3 strips of red bell pepper and wrap with half a bacon slice around each bundle. Secure with a tothpick and arrange in a single layer in the same casserole dish used for marinating.
Bake uncovered for 45 minutes or until the bacon is cooked.