Brenda.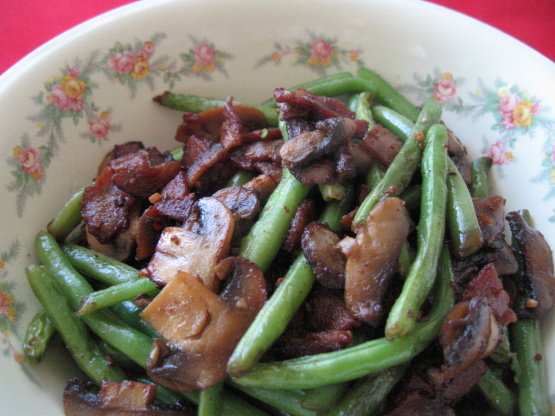 Every year, Mom cans green beans from our garden. I love them, but I get tired of the plain old "heat 'em up with bacon grease" beans. So...this recipe came out of the desire to eat green beans a different way. It's easy enough for a weeknight, nice enough for company. Since not everyone has access to canned green beans, I made them with canned green beans to get the measurements exact for posting.

Loved these beans!!! Really liked the mushrooms and soy sauce, really nice combination. Didn't quite have enough bacon but think it was just enough. Really good flavor, thanks for posting!!
Place bacon into a large saucepan over medium heat.
Cook until browned, stirring occasionally.
Add the mushrooms and garlic, and reduce the heat to medium-low.
Let cook for a few minutes to soften the mushrooms.
Stir in the green beans and soy sauce, and heat through.