Great-Grandma's Chocolate Zucchini Cake
Boomette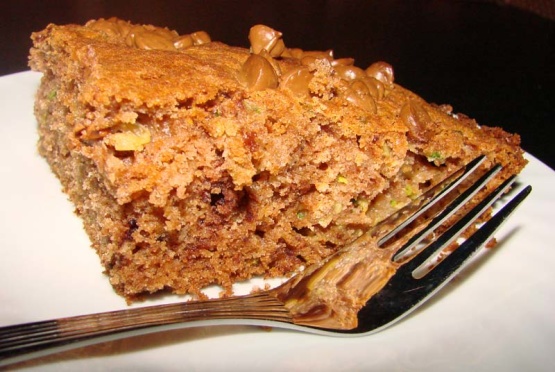 I always remember my great-gramdma making this cake, so when I was given a 3-foot long zucchini by my boyfriend's parents, I called my mom for the recipe. It put a small dent in that monster gourd! This was my first attempt at a cake from scratch and it didn't collapse, so it can't be that tough if I did it.
Preheat oven to 325 degrees.
Cream together butter, oil, sugar, eggs and vanilla.
Stir lemon juice into milk to make sour milk.
Stir sour milk into creamed mixture.
Sift baking powder, baking soda, cinnamon, cloves, flour and cocoa THREE times.
Gradually stir dry ingredients into wet mixture until completely combined, then stir in zucchini.
Pour batter into a greased 9x13 cake pan and sprinkle top with chocolate chips.
Bake for 40-45 minutes or until toothpick inserted in center comes out clean.