Grapefruit and Avocado Salad
ChefLee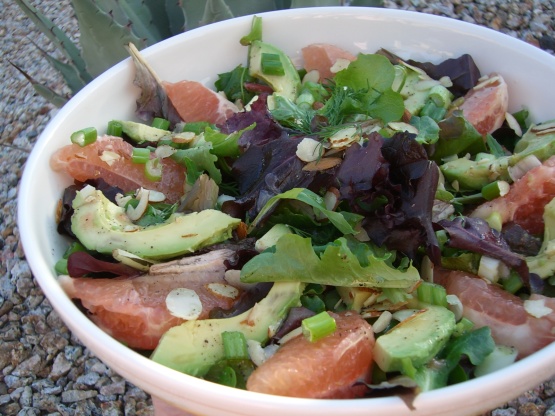 This is a very good and simple Salad with the Grapefruit and Avocado. The almonds add a salty touch. The reripe comes from Sunset Magazine. My Daughter-in-laws mother use to make a salad very similar to this.

Tasty and different salad. I enjoyed this unique combination of ingredients and felt it made a lovely presentation with the colorful chunks of grapefruit and avocado. This was a hard sell though to the rest of the family, who felt the dressing was too tangy. I felt the dressing needed a more robust flavor - perhaps additional herbs & seasonings would do the trick. Still, a very tasty,tart salad for grapefruit fans. The nuts were an especially nice touch.
2

pink grapefruit (I have used the canned grapefruit)

2

tablespoons olive oil

2

tablespoons lime juice

1

firm-ripe avocado, peeled and sliced

12

ounces mixed greens (about 2 quart)
1⁄3 cup chopped almonds or 1⁄3 cup roasted salted almond
1⁄4 cup thinly sliced green onion (white & pale green parts only)
salt and pepper
With a sharp knife, cut peel and outer membrane from grapefruit.
Working over a strainer set over a bowl, cut between inner membranes and fruit to relase segments into strainer.
Squeeze juice from membranes into bowl,Discard peel and membranes.
In a large bowl, combine oil, lime juice and grapefruit juice.
Add salad greens and mix gently to coat.
Place in salad bowl or put on plates.
Top with grapefruit segments, avocado, almonds and green onion.
Add salt and pepper to taste.