Grandma's Cowcumber Salad (Vegan Friendly)
CoffeeB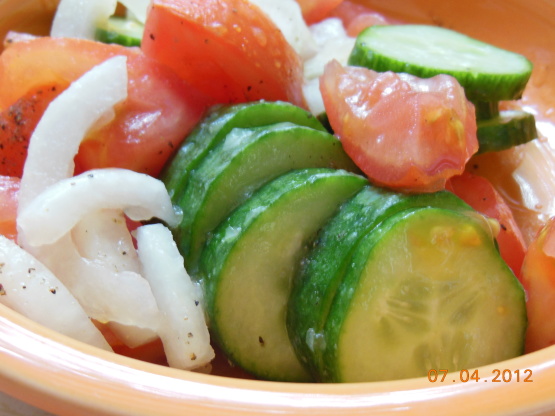 This ridiculously easy recipe is from a local CSA flyer I received a few years back.Perfect for summertime dining, last minute potlucks, picnics, etc. Be very sure the vegetables are the freshest and best quality. Peeling the cucumbers is optional. Substitute agave or other similar sweetener for the honey if you want the salad vegan. Try a variety of heirloom tomatoes or cucumbers from your garden or local farmer's market for best results. Experiment with flavored honey...lavender, clover, blackberry, etc. It would not be out of line to garnish the vegetables with a favorite fresh herb of choice. Lastly, small garden fresh zucchini can replace all or part of the cucumbers.

For personal preference, I replaced the oil with water in this dish. It was so light and refreshing and easy to make. We loved it. Thanks for the recipe.
1

lb cucumber, sliced thinly

1

lb tomatoes, chunked

1

large onions, sliced thinly (I used a medium-sized Oregon-grown 'Hermiston Sweet' and added 2 green onions) or 1 bunch green onion, sliced (if choosing green onions use both green and white parts)
salt, to taste
black pepper, to taste

Dressing

3

tablespoons extra virgin olive oil

2

tablespoons raw apple cider vinegar plus 1 teaspoon raw apple cider vinegar

2

tablespoons honey plus 1 teaspoon honey (local honey is best!)
Arrange the vegetables on a large platter.
Whisk together the dressing and pour over the vegetables.
Set aside for 30 minutes to marinate. The salad is best served at room temperature.
Before serving, season with salt and cracked black pepper.