Grandma Chics Carrot Cake 1968
Calee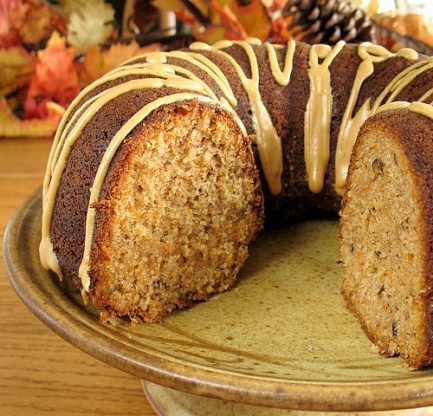 Yummmmy yummmmy in my tummmmy cake !!!!!!! My mom-in-law, finally gave this recipe to me in 1968, after every weekend out at the cottage, I would eat it all up, and leave nothing for them to take home. There's always a new way to get their prized recipes.......375 degrees oven 45 minutes, remove poke holes place on filling and return to 375 degrees oven last 15 minutes, 9 1/2 cup greased and floured tube pan. Remember also if you use a bundt pan they have a tendency to cook faster, and if not careful could result in a drier cake. Also I like to make the holes for the topping with the handle of a wooden spoon that way everything goes into the cake a little better, leaving only a slight amount on top.

oh...my...G__d!!!! Andy, this carrot cake totally rocks bigtime! I will give it 5 stars plus 3= 20 stars. The best carrot cake I have ever had, and I thought that I have tryed all the best, but no way this is it! This cake is so moist, and talk about delicious... well, that's just an understatement....Well, Thank your mother-in-law, and you for an outstanding carrot cake recipe...I will be making this again...very soon...probably sooner than you think, cause my DH and my son already ate almost half of the cake...I sure hope that I get some for myself tonight...Great recipe Andy...keep up the good work, thank you :-) :-)
Cake Method: Beat eggs, and gradually add the sugar Blend in the grated carrots Sift the dry ingredients together and add alternately with the salad oil Blend in the vanilla Add the nuts Add the raisins OR pineapple Pour into prepared pan Bake the first 45 minutes at 375 degrees.
Remove from oven With a large handle of a wooden spoon or skewer poke holes all over the cake.
Down to bottom.
Pour topping into holes and all over top Place back into oven for the last 15 minutes 375 degrees.
Test with a tester, should come away clean.
When done remove from oven Place onto a cooling rack.
Cool completely When cool glaze with a coffee glaze over the top and over the sides.