czdavies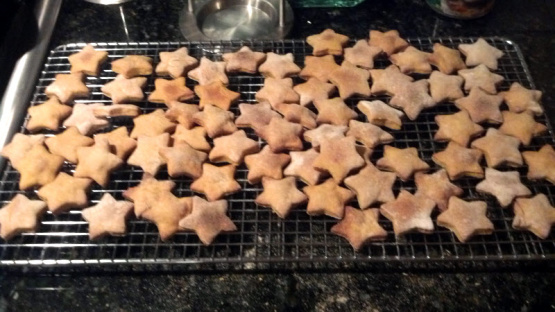 My dog loved these and I'm sure yours will too!

Top Review by caetb
My Viszla-mix, Sam, has a very sensitive stomach and most treats don't agree with him, but we need treats for his obedience training and I was really at a loss. This recipe is great! No junk (I couldn't believe what goes into most commercial treats...), and I can choose what goes into them.. I made them with sweet potato and chicken flavored baby foods and he loves them so much I had to put the container on a high shelf so he can't reach. I did need to add a bit more flour to make the dough workable, and I used a pizza cutter to cut the dough into small squares small enough to use for training. Also, after the baking time was done, I turned the oven off and left them in so that they came out very crunchy and dry and should keep very well in a sealed container (not that they'll last very long...) I think for Christmas this year, I'll make a big batch of these in bone shapes for the furry members of my extended family. Thanks for a great recipe!
Preheat oven to 350 F degrees.
In a large bowl combine all ingredients together and make a thick dough.
Knead on a slightly floured countertop for about 4 minutes until the dough is nice and smooth.
Sprinkle a little more flour over the dough to make rolling easy.
Roll out the dough to about 1/2 inch thickness.
Use cookie cutters or a small drinking glass.
Bake on a ungreased cookie sheet for about 22 minute.
Let doggie biscuits cool for at least 1/2 hr before serving.
To keep fresh, package these in sealed containers.
Try different flavors of baby food.
Yield- depending on size.