Good for You Cornbread Dressing
PaulaG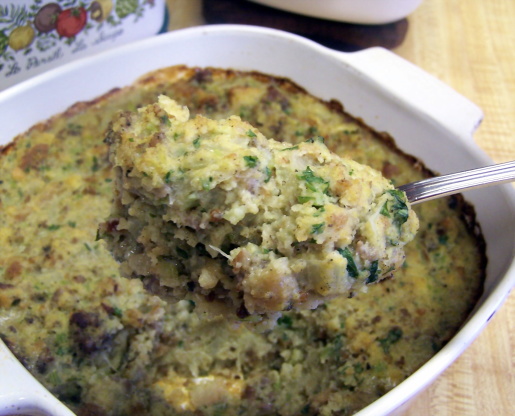 My husband was hospitalized several years ago with a heart condition. The hospital provided a cooking class for heart healthy cooking. This recipe was in one of the handouts. I added the light sausage and have used this recipe ever since. Happy holidays!

I can't believe that this is a hospital recipe. Usually those recipes are terrible. this was really good, especially for something that is considered good for you. I would add more sage and perhaps from Fresh Rosemary, but aside from that it's good.
Preheat oven to 350 degrees.
Combine crumbled cornbread and cubed whole grain bread in a large bowl.
Cook sausage in heavy skillet until done.
Drain off fat if necessary.
Add onions and celery to sausage and cook until onions are tender, about 15 minutes.
Add sausage mixture to bread, along with chicken broth, seasonings, egg substitute and parsley.
Stir until well combined.
The mixture should be the consistency of cornbread batter.
Turn into a 9" x 13" pan which has been sprayed with nonstick cooking spray.
Bake for 45 to 50 minutes until firm in the center.