Golden Sesame Chicken With Ginger Dressing
twissis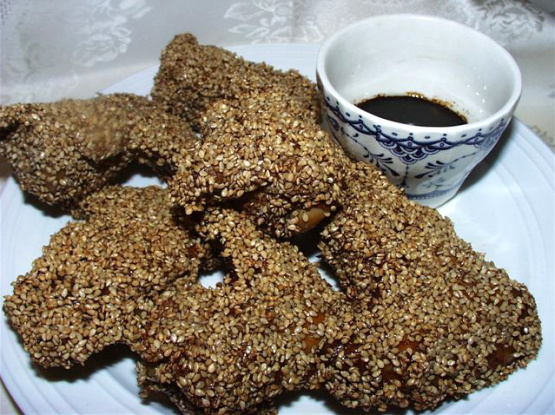 Not something you would ever find in a fast food restaurant, these chickies pack a punch of flavor, and are very pretty too, on their bed of fresh spinach. For couth guests only! ;-) Note: I get the greatest grated ginger (how's that for alliteration?) by freezing the ginger root first and then grating it on a Microplane zester.

I made 2 cosmetic chgs, but did not disturb the heart of your recipe. I used wings instead of breast meat & I did not serve on fresh spinach as I am not always able to get it & this was 1 of those times. Using wings did raise the oven cooking time to get them fully cooked (no fault of the recipe). The meat was well-flavored by the marinade & the crunch from the sesame seed more welcome than I thot it would be. The ginger dressing was strongly lemon-flavored & thin. A longer reduction time & adding sugar or more orange juice will solve that for us. Thx for sharing this recipe w/us.
Marinade

3

large egg whites (sometimes I just use two eggs)
1⁄4 cup soy sauce

2

tablespoons sesame oil

1

teaspoon grated fresh ginger

1

scallion, finely chopped

1

lb raw chicken breast (cut into bite-size pieces, but you can make them larger if you want, I'm not going to force you)

Ginger Dressing

2

tablespoons grated fresh ginger
1⁄4 cup soy sauce

2

tablespoons dry sherry (drinking, not cooking)

1

teaspoon chopped fresh garlic

1

teaspoon sesame oil
1⁄2 teaspoon red chili pepper flakes

2

scallions, finely chopped

1

lemon, juice of (about 2 tablespoons)

1

orange, juice of (about 1/4 cup)

Sesame Coating

4

tablespoons sesame seeds, mixed with 4 tablespoons black sesame seeds (don't drive yourself crazy getting the black seeds, just double the white ones)
1⁄4 cup canola oil

1

lb fresh spinach, washed, dried, and stems removed
Prepare the marinade first:.
Combine egg whites, soy sauce, sesame oil, ginger, and scallion. Whisk together until frothy.
Add the chicken and marinate, refrigerated, 30 to 40 minutes.
Meanwhile, prepare the Ginger Dressing:.
Combine the ginger, soy sauce, sherry, garlic, sesame oil, chili flakes, scallions, lemon juice and orange juice in a saucepan and bring to a boil.
Reduce the heat and simmer 5 minutes.
Remove from the heat and set aside while preparing the chicken.
Sesame coating:.
Mix the two types of seeds together. That's it.
Cooking the chicken:.
Drain the excess liquid from the chicken and dip them in the sesame seed coating, covering them completely on all sides.
Place the chicken pieces on a tray in the refrigerator about 30 minutes before cooking to allow the coating to dry.
This would be a good time to start preheating your oven to 350 degrees F.
Heat the canola oil in a heavy pan.
Saute chicken on each side until crispy on the outside. Use tongs to turn them.
Transfer them to a cookie sheet (I cover the sheet with parchment paper first) and place in the oven 3 minutes to make sure they are fully cooked in the center. (Yes, you preheated an oven for all of 3 minutes baking. Do you want salmonella? Just do it!).
Serve the chicken nuggets on a bed of raw spinach leaves and drizzle the Ginger Dressing over the top or put in a bowl to serve on a platter.
You can thank me later.