Golden Graham Chocolate Chip Bars
CoffeeB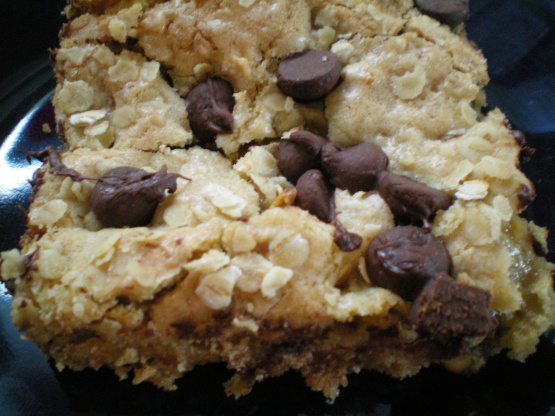 I aways keep Golden Graham cereal on hand just to make these wonderful-tasting bars....they are soooo good.

Big hit with the kids and me cause I got to use up some stale cereal. Easy to do. I sprinkled butterscotch morsels over top.
Set oven to 350 degrees.
Grease a 13 x 9-in baking sheet.
In a mixing bowl, cream butter and sugars.
Add eggs, beat well.
Beat in vanilla.
Combine flour, cereal, 3/4 cup oats, baking soda, baking powder and salt.
Gradually add to creamed mixture.
Stir in 3/4 cup peanuts, and 2/3 cup chocolate chips.
Spread in prepared baking dish.
Coarsely chop remaining peanuts; sprinkle over top with remaining oats and chocolate chips.
Bake for 25-30 mins, or until golden brown.