-Sylvie-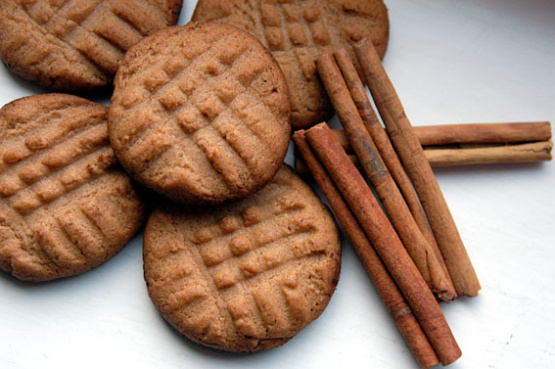 An easy and quick mix biscuit (cookie) dough to make. You can use 3 teaspoons of ginger powder instead of 3 teaspoons of cinnamon powder. These biscuits (cookies) are great dunking biscuits. The bicuits (cookies) do have a bit of crunch in them.

The flavour of these is great, especially during autumn and heading towards Christmas. They are very crisp, but yummy all the same and so simple to make. You really need to keep an eye on these while baking, because of the colour of the dough, it is very hard to tell when they are done and due to the syrup, sugar and butter it is easy to burn them. I burnt the bottoms of the first batch and the second batch was done after about 7 minutes. It might be a good idea to bake them in the top half of the oven, rather than the middle, especially if you have bottom heat in your oven. Thanks for sharing, I'll definitely make these again.
Combine butter, golden syrup and sugars in medium heavy-based pan, stir over low heat until butter is melted; cool for 5 minutes.
Stir in flour and cinnamon.
Roll rounded teaspoons of mixture into balls, pleace about 2cm (approx. 1 inch) apart on greased oven trays, flatten with a floured (or gluten free floured) fork until 1cm (just under 1/2 inch) thick.
Bake in hot oven (450F to 475F, or 230C to 230C, or Gas Mark 6) for about 12 minutes or until browned.
Stand 1 minute before lifting onto wire racks to cool.