Gluten Free Chocolate Chip Muffins
Maeleigh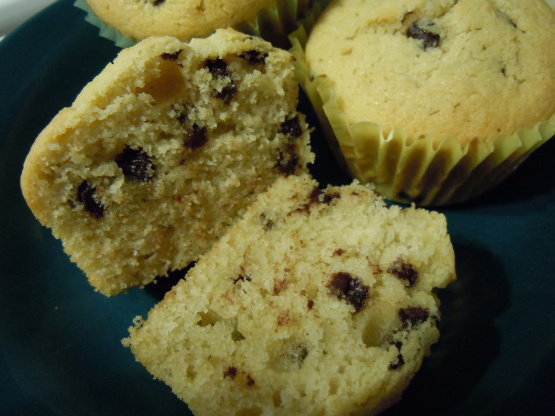 A recipe I altered from a recipe for Gluten Free Cranberry Orange Muffins from a Woman I met Online. I LOVE these muffins so much. Really you can put anything in them. These have been my go to sweet thing when I want something like a cookie or cake. These are just really quick to make verses other Gluten Free Recipes.
Made a double batch of these delicious muffins, with 6 of them going straight to a neighbor of mine who appreciates these kinds of things, while the other 18 of 'em were part of a handful of breads & muffins that I shared during one of our park's weekly coffee & sweets gatherings! These were much enjoyed by a number of my neighbors, & were gone well before people were leaving! [Made & reviewed for one of my adoptees in this fall's round of Pick A Chef]
Preheat your oven to 350 degrees.
In a large bowl add your softened butter with the sugar and the salt. With a whisk or a hand mixer cream the mixture together. Once creamed, add the egg, then the vanilla and then the sour cream.
mix the baking soda into the mixture and then add in the Bob's baking mix. Mix until the mixture is smooth.
Once smooth add the chocolate chips or whatever else you want in your muffins and stir to combine.
Line a muffin tray with muffin cups and divide the mixture between them. You should get 12 muffin. Alternately you can have 9 really big muffins but the recipe calls for 12.
Place in your 350 degree oven for 12-15 minutes or until slightly golden and a toothpick comes out clean.