Gluten-Free Cheese Straws
jude503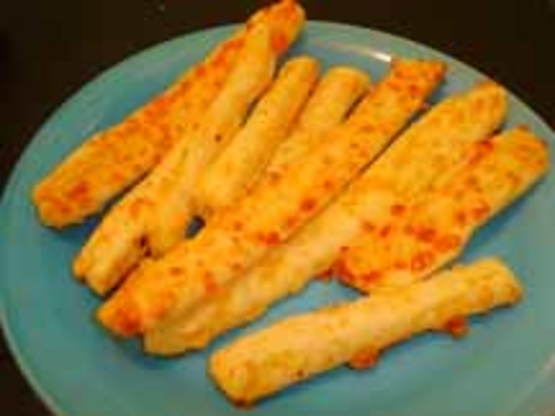 From Roben Ryberg's "Gluten-Free Kitchen". You can omit the ground red pepper, if desired. (5" long by 1/3" wide)

We love these. We prefer to use sharp cheddar or even extra sharp chessar for the flavor. We also like to use this to replace the Cheez-its in Chex Mix. We roll them out very thinly, cut on baking sheet, but not seperate and then bake. If you add a few drops of food coloring, then they don't look anemic in the cereal mix. I've never used cream- I use whole milk (but use a little less) and increase the butter a bit.
Preheat oven to 375 degrees F.
In a medium bowl, combine and mix well, butter, cornstarch, potato starch, ground red pepper, xanthan gum, and salt.
Mixture will be crumbly.
Add cream and beat until smooth.
Add cheese and mix until dough is almost uniform in color.
Roll out or pat the dough to 1/4" thickness (unfloured surface).
If the dough is too sticky to work with, refrigerate it for a few minutes or so.
Cut into thin straws and place on a greased baking sheet.
Bake about 12 minutes.