Gingered Shrimp With Corn and Broccoli
Ann 3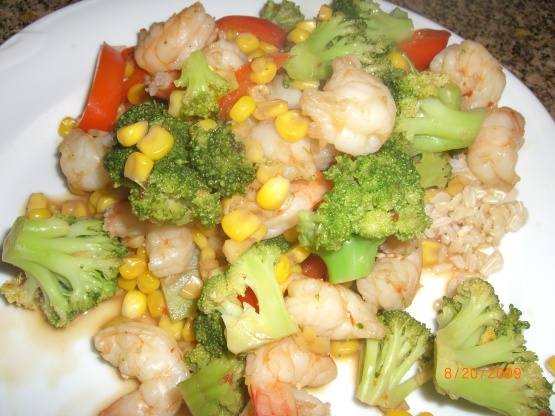 Recipe from Prevention Magazine

Good flavors! I found the sauce a little thin, but then, I didn't bother to towel the broccoli dry. I would recommend a bit of cornstarch in the sauce to thicken it. Other than that, excellent recipe! I think I'd like to try baby corn next time rather than regular corn kernels. My picky teenage son who will never try anything even battled his dad for several of the shrimp.
Place broccoli in a steamer, and gently steam over low heat until crisp-tender, about 4 minutes. Transfer to a clean tea towel, and lightly pat the broccoli to absorb excess water.
Whisk the soy sauce, vinegar, brown sugar, ginger, and chile-garlic paste until the sugar has dissolved.
Just before serving, heat a wok or large non-stick skillet over high heat. Add the oil. When it ripples, add the scallions, corn and shrimp. Stir fry for 2-3 minutes, or until the shrimp are opaque. Add the broccoli and soy mixture, and stir-fry until all the ingredients are coated with the sauce and heated through.