Rita1652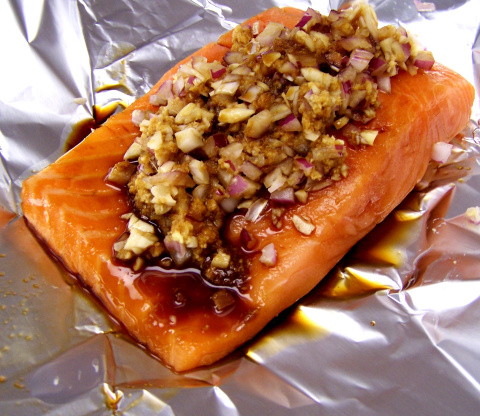 I thought this sounded good. Recipe source:local newspaper

Made almost as directed, except that I put each fillet in separate foil packets. and apparently misread the directions--I mixed the green onion and parsley in with the sauce. I found it to be too salty. My husband said that it's a better recipe for people who feel compelled to eat salmon but don't particularly like it; we didn't taste the salmon at all. I'd highly recommend using a low sodium soy sauce. Thanks anyway, Ellie.
Preheat oven to 350-degrees F.
Place salmon in 8-inch baking dish and set aside.
In a small cup or bowl mix together next 3 ingredients (garlic - soy sauce) and pour over salmon.
Bake for 20 - 25 minutes or until cooked through.
Sprinkle with salt, parsley and green onion.