Ginger-Honey Glazed Shrimps
Zurie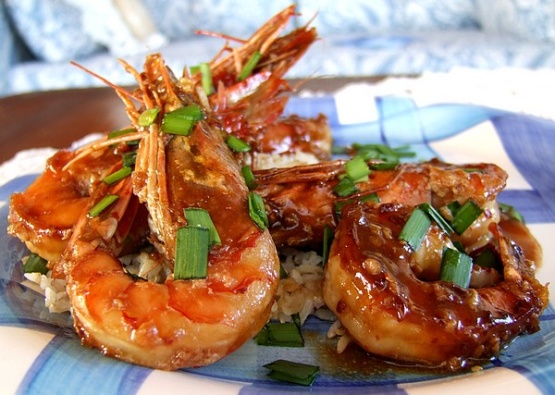 A delightful Asian-Fusion dish. Shrimps can be substituded with Salmon or Seared Tuna as well.

Top Review by Zurie
Great recipe! Please do not think I changed it, but instead of black pepper I added a little dried crushed red pepper flakes. I kept the heads on my shrimps, purely because (according to better cooks than me) it adds to the end flavour. (In South Africa shrimps, better known as prawns, are almost always served shell and head on, and the best tasting ones come from Mozambique. In this case those were not available, and I used Indian farmed prawns which are fairly tastless! But I did peel the bodies). Your sauce cannot be faulted. The balance of flavours is perfect. I did add a little water when simmering the sauce, purely because I think I had more shrimp than your specified 1 lb, and the sauce was not quite enough. I made brown basmati rice, and not white rice. This was a delicious meal, and I cannot understand why your recipe has so far gone unnoticed!! Thanks for posting, we had a delicious dinner! (I also made a salad with varied ingredients).
Make sure shrimps are completely thawed and drained.
Preheat the oven to broil.
In a bowl, whisk together the soy sauce, honey, vinegar, ginger, garlic, and pepper.
Add cornstarch and whisk.
Pour over shrimps, turning to coat.
Marinade for 30 minutes or longer.
When finished marinating, transfer marinade to a small saucepan, add cornstarch and simmer.
Lightly grease the foil with sesame oil on the oven-proof dishpan before placing the marinaded shrimps.
Broil shrimps for about 6 mins(depending on the size of the shrimps, do not over or undercooked), brush shrimps often with sauce.
When shrimps are cooked, place the shrimps on a bed of rice(individual serving), pour over with the rest of the marinade, sprinkle with fresh lemon juice if desired.