loof751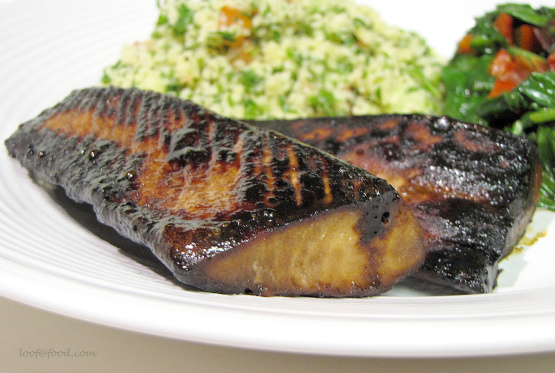 This is a great way to make fish. This will work with any dense fish like salmon or mahi mahi or even tuna. I like to do this in the winter when I can't get to my snow covered grill. A great wine to pair with this is a pinot noir--I'm partial to Schug.

Top Review by chefRD
Excellent! Simple & Quick to prepare. I was looking for fish recipes since we decided to incorporate fish on a weekly basis to reduce our red meat intake. Not having much experience with preparing fish I found this recipe quite easy to follow. Initially I worried that I had burned the fish because it did get quite dark almost black in parts when I flipped it over, but it did not taste burned at all. Next time I may not do the entire five minutes on the first side as I think the Greenpan I used cooks things hotter than normal. It was the only pan I own that can also go in the oven. Also, I did as others and saved the marinade to make a sauce. The sauce was so Delicious!!! Next time I think I will double the marinade so I have more sauce to pour over the fish and rice. All I did for the sauce was to add equal amounts of balsamic vinegar, honey & soy sauce to the marinade and then I brought it to boil and kept stirring to it reduced to the thickness I liked. Funny side note, my daughter who is 7 years old, kept saying she just loved the chicken! I will definitely be making this again and again. Thanks for the great recipe!
Mix all ingredients in a ziploc bag and add fish. Leave in fridge to marinate for up to 2 hours.
Preheat oven to 400.
In an oven safe skillet, heat 1 Tbsp olive oil on medium high heat.
Place fish in skillet, but be careful--it will splatter a bit.
Leave the fish to sizzle away for 5 minutes.
Flip the fish over and place entire pan in the oven for 15 minutes.
Enjoy.