Ginger Chicken and Peanut Sauce Wraps
Rita1652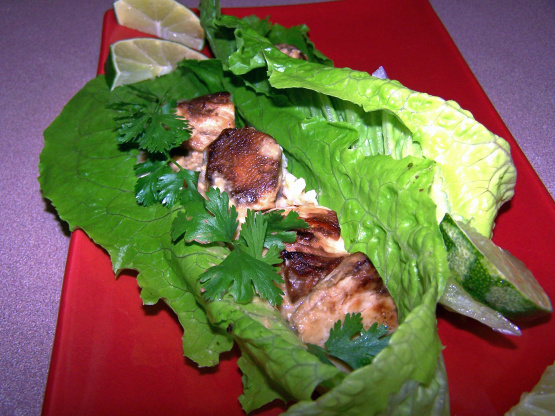 Linda has this recipe posted From Ginger Chicken and Peanut Sauce Wrap Ginger Chicken and Peanut Sauce Wrap. I had the challenge to reduce the fat so I made it low fat by skipping the tortilla and replace it with lettuce. Replace the noodles with brown rice. Cut the oil back. This is a fun make your own meal.

This was excellent, each bite produce a different taste. Good job Rita, this will become a regular in our house.
Combine ingredients for marinade and mix thoroughly.
Place chicken and marinade into a covered bowl and place in the refrigerator for at least two hours (over night if desired). Cut chicken into one inch cubes.
Wash and drain romaine lettuce leave whole and to drain. Wash and drain cilantro and separate into single stalks.
Combine ingredients for peanut sauce and puree in a blender till smooth.
Preheat sesame oil in a non stick skillet on high heat until almost smoking. Stir fry chicken for 2-3 minutes until chicken is brown and thoroughly cooked.
Spread sauce down the center of each lettuce leaf. Fill leaves with 2 tablespoons of chicken, one stalk of Cilantro and 1 tablespoon of rice. Squeeze some lime and enjoy.
Wraps can be made in advance and chilled if desired.
Fun to have everyone make their own!