dani2828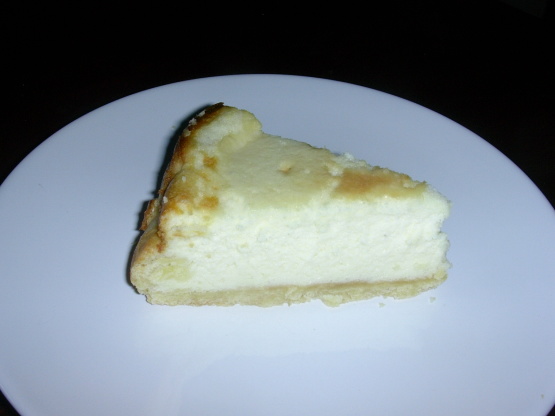 This is a baked cheesecake with shortcrust pastry instead of biscuit base, which comes pretty close to the 'real thing'. In Germany, we use 'quark' instead of cream cheese, which is somewhat lighter in texture. After much experimentation, I came up with this one. I did not include a recipe for shortcrust, I'm sure there are excellent ones around. Enjoy!
Blind bake the shortcrust in a springform pan for about 20 minutes, till light brown.
Mix the following until creamy: cream cheese, sour cream, oil, egg yolks, sugar, starch and vanilla bean (I think it's really important to use real vanilla. The little black dots are key! You can use some fake aroma additionally, if required). The amount of sugar depends on your sweet tooth.
Beat the egg white until soft peaks form. Fold under cheese mixture.
Now spread it over the base, and bake at 180°C for about 50-60 minutes. You want it to be light brown on top, and rather firm to the touch - not entirely wobbly!
Let it cool for a bit and eat warm with some whipped cream. Yum, my favorite!