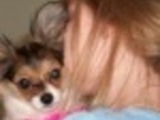 Growing up in the 50's in the south, Frito Pie could be found at every drive-in, ballpark and greasy spoon cafe. It isn't put in a casserole, it isn't baked in the oven. It's eaten right out of the Frito package with a plastic spoon. The greasier the chili, the better the Frito Pie.
Directions
Crunch pack of Fritos. You don't want them in crumbs but you want them broken up a bit. Slice open side of package. Pour in greasy chili. Squeeze in one hearty squirt of mustard. Sprinkle onions on top. Top it all with cheese.
Grab a plastic spoon and stick it in the middle and you're ready to enjoy a genuine Frito Pie.
Most Helpful
Right on Sandy!!!!!!!!!I see you are in Houston,very close to my home town. I skip mustard and use sour cream.Great comfort food for me.Thanks!
Always a hit with my family! I've been using this recipe for a while now, but I omit the mustard. We use canned Wolf brand chili - no beans. This is great to serve for a teens party or for a sporting event, such as a Super Bowl party. Thanks Sandy for posting!

My family loves this recipe...we leave out the mustard due to our taste buds...easy clean up too!