gemini08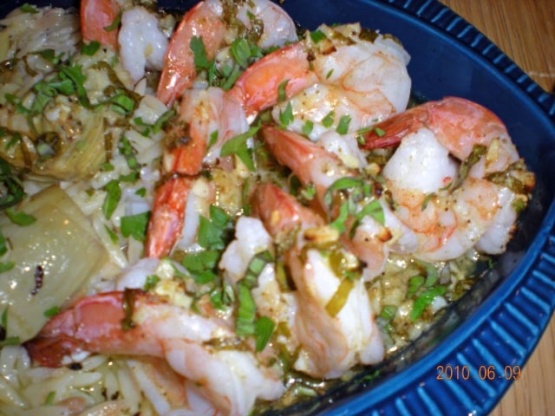 These are tastier than anything I've ever eaten in a restaurant, and, better still, can be made a few hours ahead of your guests arriving. The recipe can be easily adjusted to feed less or more as required. The quantities given here are for a main course. I would normally serve this with steamed rice. This recipe is adapted from English food writer, Delia Smith.

I cooked this dish. It was real easy to do. I added a little Chilli to give Extra kick. And sprinkled a little Cheddar on top when serving.
Wow it was so delicious. And My guest wanted more. I will be doing this again For one of Parties. And putting it on my menu.
Remove prawn heads and peel prawns, leaving tails intact.
'Butterfly' prawns by turning them on to their backs and, working from the tail, use a small, sharp knife to slit them almost in half lengthwise.
Press down lightly with your hand to flatten them slightly.
Remove and discard the 'vein' located along the length of the cut.
Place the prawns in a single layer into a buttered baking dish.
Now, simply combine the melted butter, garlic, lemon rind and juice, 1 tablespoon of the chopped parsley and a good pinch or two of black pepper and pour evenly over the prawns in the baking dish.
At this stage, the dish can be covered with plastic wrap and kept in the fridge until you are ready to cook it.
To cook, preheat oven to 230°C (450°F).
Place the baking dish on the highest shelf of the oven.
Cook prawns for 5-8 minutes, or until pink.
The prawns will take more like 7-8 minutes to cook if they have been prepared earlier and chilled.
To serve, sprinkle lightly with salt and with the reserved parsley.