Boomette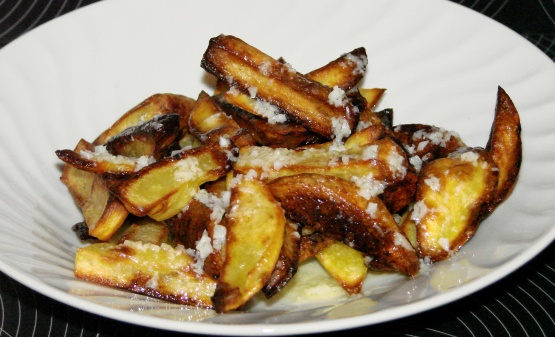 Great tasting oven fries.

These are absolutely delish! They are so garlic-y and full of flavor! I did toss the fries with the garlic butter and baked them an additional 5 min.. These would also be good to grate some fresh parmesan over top right before serving. So yum! I did use this recipe as a base recipe for some loaded fries. I wanted them to be like our favorite restaurants version. So I loaded them with cheddar cheese, bacon, bbq sauce, ranch and sliced green onions. But these are absolutely delicious by themselves. Thank you for the recipe!!
Preheat oven to 400 degrees.
Toss the potatoes with the olive oil.
Spread in a roasting pan and roast for 45 to 50 minutes, tossing occasionally, until cooked through and golden brown.
Just before the potatoes have finished roasting, melt the butter in a small saute pan.
Add the garlic and saute over medium-low heat for 2-3 minutes, until garlic begins to soften.
Set aside.
Transfer the potatoes to a large serving bowl and drizzle the garlic and butter over them.
Season generously with salt and pepper and toss to combine.
Keep warm until ready to serve.