Garlic-Onion Dinner Muffins
-Sylvie-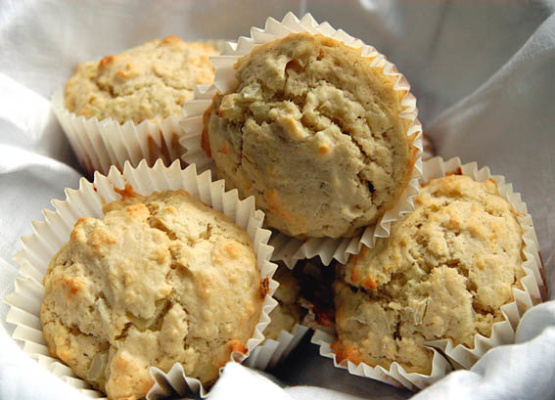 This muffin makes a perfect bread accompaniment for steaks and roast. The recipe comes from " A taste of Cuba" and was sent to me.

I have made these twice in the last 2 weeks to accompany dinner. Very tasty and easy to put together. I added extra garlic and used green onion. Just the right amount of sweet and savoury. Thanks for the recipe. Catherine
Heat oven to 400°F.
In a large bowl, mix flour, baking powder, salt and sugar.
In a small bowl, mix together egg, milk, garlic and onion.
Make a well in the center of dry ingredients and pour in the egg mixture and melted butter.
Mix together using as few strokes as possible.
DO NOT OVER BEAT--the batter should have small lumps in it.
Pour into 12 paper-lined muffins tins, filling about 2/3 full.
Bake 20 minutes or until muffins begin to turn golden on top.
Test for doneness with a toothpick which should come out clean.
Remove from tins and cool slightly before serving.