Garlic, Chilli and Ginger Seafood Chowder
maliso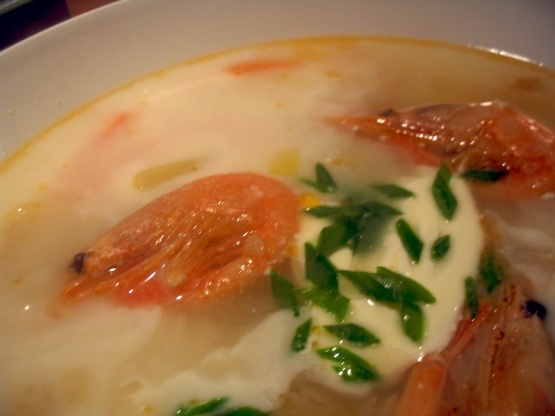 This is a heating-up soup for cold winter nights. Fresh ginger makes it tangy and refreshing. I like the shrimps in shells. It looks more interesting and gives me the impression of eating REAL seafood:). You can substitute fish fillets and shimps with any other seafood.
Slightly defrost fish fillets, cut them in bite-size cubes.
In a large saucepan heat olive oil, add garlic, ginger, red pepper flakes and shrimps. Cook for 2 minutes, turn the shrims, add leak and celery and cook for another 3 minutes, constantly stirring.
Add hot water, fish cubes, carrots, potatoes and salt. Bring to boil. Reduce heat and simmer for 20 minutes.
Remove from heat, add lemon juice, season with salt and/or pepper if desired. Just before serving you may add low fat cream.
Serve sprinkled with chopped scallions.