flower7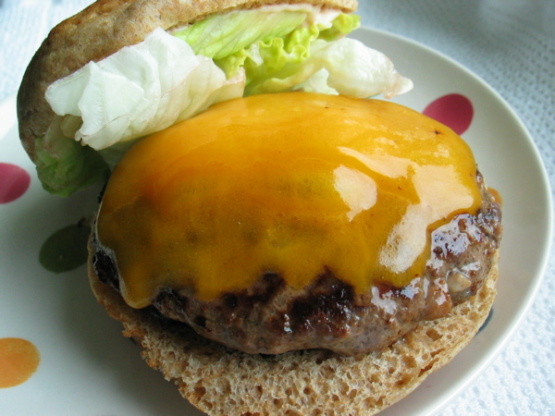 I found this recipe on another website. I haven't tried it yet, but it sounds wonderful! Cook time includes minimum refrigeration time ZWT 3: U.S. and Germany (Hamburg)

I love burgers but never make them at home - this recipe may just change that! Very easy and super tasty! I cut this down to 1/4 recipe (1/2# of beef) and made 2 burgers with it. I mixed them up last night and cooked one for lunch today (in a non-stick skillet on the stovetop for 10 minutes); the other will be cooked fresh tomorrow. Made my own italian-style steak seasoning by adding basil & oregano to Recipe #83903 and I actually used a little extra seasoning & cut back on the salt & pepper a little. Dressed the burgers with Recipe #288410, cheddar cheese & lettuce. Delicious! Thanks for the recipe!
In a large bowl, mix together the beef, Worcestershire sauce, garlic, onion, salt, pepper and Italian seasoning. Refrigerate for at least 2 hours, preferably 3 to 4.
Form burgers into 1/2 inch thick patties.
Cook on grill or on stovetop until desired doneness.