Prep 20 mins
Cook 30 mins

Sloppy Joes are not easy to eat--that's half the fun for kids of all ages. Adults who like spicy food can add hot sauce at the table. Adapted from Cooking Light magazine. This recipe is delicious! It also is very, very versatile. It's been used for sloppy joes, also combined with rice and used as a filling for stuffed peppers. Put it in a tortilla and top it with salsa and cheese. You can put it in spaghetti sauce and serve it over pasta. It makes a lot, so I can have sloppy joes the first night and use it in a different dish the second night. This recipe freezes well too!
Directions
Combine boiling water and sun-dried tomatoes in a bowl, and let stand 5 minutes or until tomatoes are soft. Drain and chop tomatoes.
Heat the olive oil in a large nonstick skillet over medium-high heat. Add chopped the onion, red bell pepper, and garlic; sauté 3 minutes or until vegetables are tender. Stir in the sun-dried tomatoes, soy sauce, and the next 8 ingredients (soy sauce through crushed tomatoes). Bring mixture to a boil; reduce heat, and simmer 20 minutes or until slightly thick, stirring the mixture occasionally. Stir in soy crumbles; cook 2 minutes or until thoroughly heated, stirring frequently. Spoon about 2/3 cup crumbles mixture onto bottom half of each roll; top with top halves of rolls. Enjoy!
Reviews
Most Helpful
Wow, this was a great sloppy joe! I particularly loved the red pepper and sun-dried tomatoes. I didn't change a single thing (that almost never happens, lol), except I let it simmer too long and it was a bit less juicy than I prefer. I served it over whole wheat hamburger buns. My BF really loves sloppy joes and he was very happy with the way these turned out. I did serve extra hot sauce on the side. Will have to make these again for him.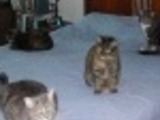 YUM yum yum! Great stuff! This makes a delicious sandwich, topping for tortilla chips, omelet filling, and on and on. It's a little salty as is, so you might want to omit the little bit of salt in the recipe and adjust to taste later. Very tasty and versatile - I will definitely make this again!

I love retakes on classics and this one acheived just the right balance between the tastes and flavors you fondly remember from chilhood and the more sophisticated flavors you like as an adult. To keep a little more texture in the dish, I used canned petite diced tomatoes in place of crushed. Also in the final seasoning, I added another teaspoon of balsamic vinegar and a dash of Wostershire sauce. Served this on toasted English muffins (as tht was what I had on hand) and slices of smoked provolone soy cheese. Tomorrow, I'm planning to add in some bulgar and more soy cheese and stuff some poblanos.