jenne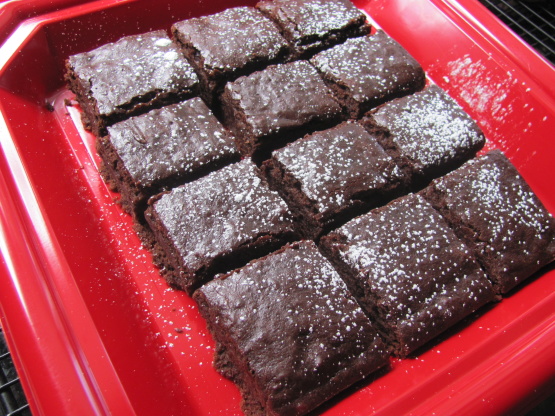 From Vegetarian Times September 2008, these are delicious brownies, that just happen to be vegan. But if you don't tell, no one will know, they are terrific! Feel free to add nuts or other goodies. You'll make these a bunch, so try something different each time. I've also made them in a mini muffin pan topped with red/green M&Ms for Christmas.

Top Review by Katzen
DH said, "Mmmh! They're GOOD! You woudn't know they had been made from whole wheat flour and flax seed." (Never mind that they're vegan, and have a banana in them...) They were super easy to make, and I added a good sprinking of white/dark swirled chocolate chips on top for colour. These will definately be made again and again! Thanks to WICC for posting this awesome recipe, and to Magpie Diner, for putting it in her Best of 2010 so I could tag it!
Preheat oven to 350°F Coat 9-inch-square baking pan with cooking spray.
Whisk together flour, cocoa powder, baking powder, baking soda, and salt in large bowl.
Melt chocolate chips with canola oil in double boiler, stirring until smooth. (Or heat in the microwave, stirring every 30 seconds until smooth.).
Remove from heat, and whisk in banana and sugar.
Combine soymilk, flaxseed meal, and vanilla in measuring cup, then fold into chocolate mixture.
Stir chocolate mixture into flour mixture until just combined, then spread in prepared baking pan.
(If topping with M&Ms, sprinkle them on now.).
Bake 20 to 25 minutes, or until toothpick inserted 2 inches from side of pan comes out dry, but middle is still soft.
Cool in pan on wire rack, then cut into 16 squares.