Fruit and Nut Zucchini Muffins
Diana 2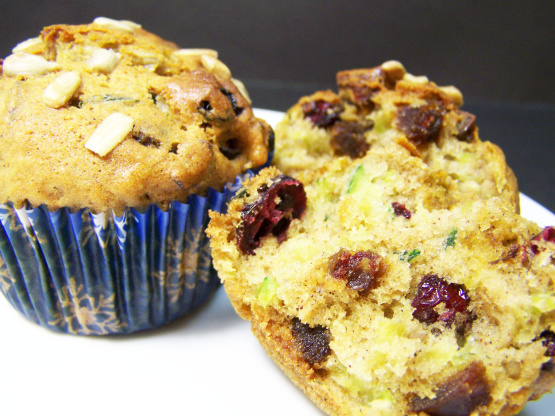 Warm from the oven, or at room temperature, who doesn't like muffins. :) Why not surprise a neighbour or a friend with a batch of these moist fruit and nut delights. Include the recipe and let them keep the muffin tin as a wonderful gift. Created for the 2010 Category Craze-E Contest.
Great recipe, thank you so much for sharing. Thou I vent for savory version, which was delicious. For the savory zuccini muffins, I ommited sugar completely and added 1 chopped shallot, some white pepper, salt, grained coriander, garlic powder and tabasco. So yummy lunch/breakfast food!
Preheat oven to 350*. Line 6 muffin tins with paper liners.
In a small bowl, mix together flour, baking powder, baking soda, salt, nutmeg and cinnamon. Set aside.
In a medium sized bowl, use a spatula or wooden spoon to mix together the beaten egg, oil, vanilla, and brown sugar. Stir in the grated zucchini.
Stir the dry ingredients into the zucchini mixture. Gently fold in the cranberries, dates and sunflower kernels.
Divide evenly among the muffins cups. Sprinkle with additional sunflower kernels if desired.
Bake for 30 or until tested done with a toothpick.
Remove muffins from the tin, to cool on a wire rack.