twissis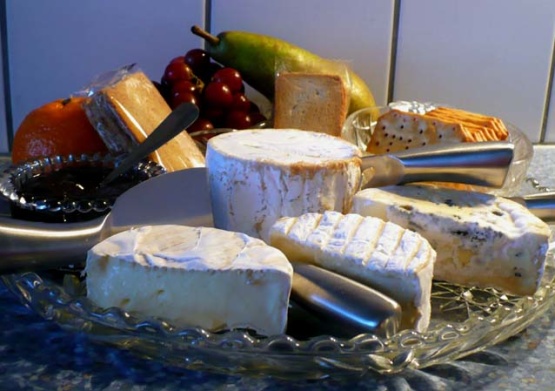 A variety of fruits and cheeses along with a yummy fruit spread is a great, easy appetizer or dessert!

Made for your Football Pool win, cheese & fruit platters are a European classic for afternoon coffee or evening dessert & mostly designed by personal preferences plus what fruit looks best at the market. While I didn't include your list of ingredients item-by-item, I captured the heart of the recipe. I used Camembert, a Roquefort mix, Brie & a locally made Icelandic cheese called Gull (largest in the pic). For the fruit components, I used grapes, pears, Clementines & homemade rhubarb jam. I'd bought apples too, but DH ate them prior to service of the platters. I included bacon flavored crackers & melba toast. Sml baguette roll slices were ready to go, but failed to make the platters in my haste to serve them at a family gathering. This combo of flavors is always great & the platters were well-received by our guests. Congrats on your FP win & thx for providing the star of our afternoon coffee. :-)
In a small bowl mix spread ingredients. set in the middle of a decorative platter. Arrange the wedge of rouqefort, the wheels of brie and the port du salut on a decorative platter. Surround with the fruits. Serve the pears and peaches whole, the oranges segmented. Leave the tops of the berries on. Have dessert plates for all, and knives, napkins etc. Put the baguette on a bread board. Arrange the cracker on their own plate. Serve with a good dessert wine or Champagne!