Frosty Strawberry Squares (Oamc)
Pamela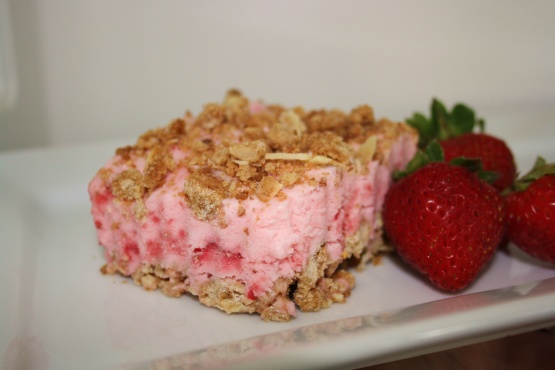 Can also be made into 2 8x8 pans instead of one large one to create 2 desserts. Cooking time is freezing time.

Top Review by Kzim4
I made this using some of my strawberry bounty. It is a great summer dessert! I only used a little bit of the crumb base and topping (only because I overcooked it). Next time I'll watch it a bit more closely and use it all. I like the little bit of crunch it adds. I also left out the nuts due to personal preference. Thanks for the yummy dessert!
Crumb Base and Topping

1

cup flour
1⁄2 chopped hazelnuts (or walnuts, or pecans, or sliced almonds)
1⁄2 cup butter, melted
1⁄4 cup packed brown sugar

Fruit Filling

2

egg whites

2

cups sliced strawberries

1

cup sugar

2

tablespoons lemon juice

1

teaspoon almond extract, optional-good if using almonds for the nuts

1

cup whipping cream
For crumb mixture, combine flour, nuts, margarine, and brown sugar. Spread evenly on to a cookie sheet.
Bake at 350 degrees for 20 minutes; stir occasionally.
Sprinkle 2/3 of the crumbs into a 13x9 baking pan.
In a large mixing bowl combine egg whites, strawberries, sugar, and lemon juice.
Beat with an electric mixer on high speed about 10 minutes or until stiff peaks form. In a small mixing bowl, beat the whipping cream until soft peaks form.
Fold whipping cream into strawberry mixture.
Spoon evenly over crumbs in baking pan. Sprinkle remaining crumbs on top.
Cover, label and freeze for least 6 hours or until firm; Serve frozen.