Ken2729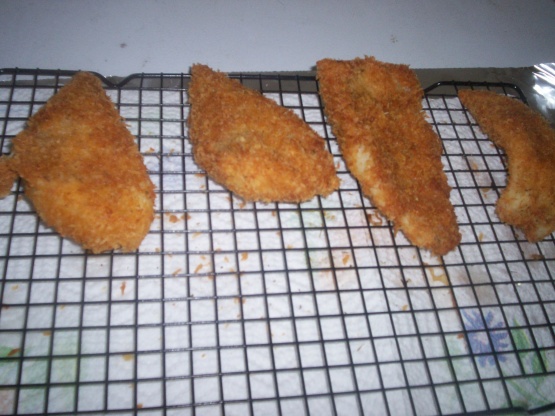 Why pay the fast food chains when you can cook it yourself? For just about the same money, you get more food and you know what you're eating. Here's a simple, yet tasty recipe to satisfy your hunger for a good ol' fish sandwich.
Heat the vegetable oil in a frying pan. (Or you could deep fry).
In a bowl, combine the milk and eggs to create an egg wash.
Season the fish with salt, pepper and Old Bay seasoning.
Cut each fish diagonally into 3 or 4 pieces.
Dredge the fish in the flour.
Dredge the fish in the egg wash.
Now cover the fish in panko breadcrumbs.
Fry the breaded fish in the HOT vegetable oil until golden brown. (About 3 minutes on one side and 2 minutes on the other.).
Cook a few pieces at a time.
Once cooked, set on rack or paper towels to drain.
Sprinkle fish with remaining salt, pepper, Old Bay seasoning.
Note: The fish is very "meaty," and is also filling as a sandwich or by itself.