Fried Cabbage (Somersize Level 1)
PaulaG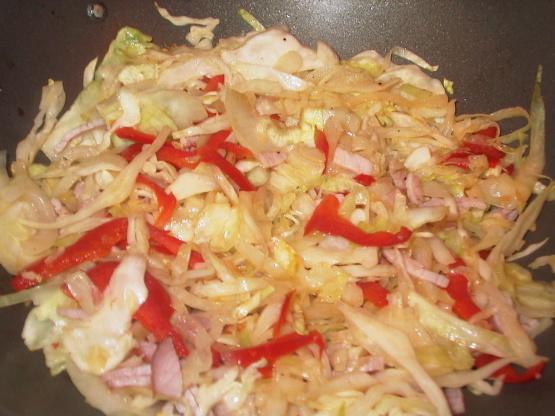 Another goodie from my old Somersize mailing list! A good side dish with protein/fat meals, or a good lunch by itself.
Top Review by PaulaG
I did not use the thick sliced bacon but decided to use some diced Canadian bacon. Used olive oil to cook the cabbage and added a red pepper for color instead of the green. Sprinkled with seasoned salt. DH said it was missing something and suggested a dash of balsamic vinegar and he was right. It was very good. Thanks for the opportunity to be creative.
Fry bacon in a deep skillet until crisp.
Drain oil, reserving about two tablespoons of fat.
Crumble bacon into skillet.
Add cabbage, onions and peppers into skillet and cook, stirring occasionally, until cabbage is wilted but still a little crisp.
Add seasonings to taste and serve immediately.