Fresh Vegetable Basil Soup
ChefLee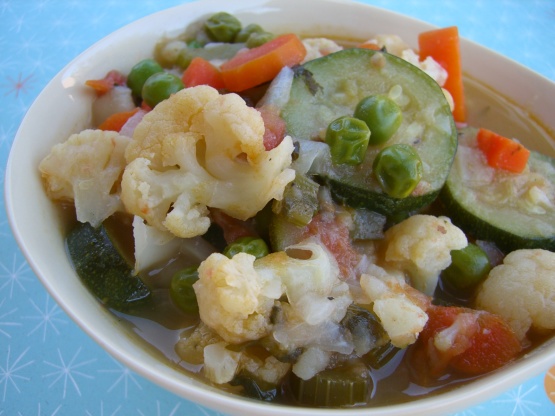 I found this recipe online and it turned out pretty good. I have a fondness for fresh peas so I haven't tried it yet with frozen.

I have been making this recipe for about 15 years from a recipe in a Sunset cookbook I had. It is healthy and flavorful and a stable in my household. I follow the recipe exactly.
Sometimes I add a hot pepper sauce for some bite.
In a 5-qt pan over med heat, melt butter.
Add onion, celery and carrot.
Cook, stir occasionally, until veggies are soft but not brown (10 min).
Add potato, tomatoes, stock, basil to pan.
Bring to boil, then cover and simmer for 15 minutes.
Add cauliflower and zucchini and simmer for about 10 minutes.
Add peas and simmer for about 5 minutes or until all veggies are tender.
Season with salt and pepper.
Serve with cheese.