Bev I Am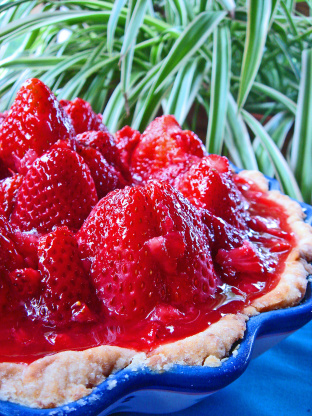 What could be better in berry season than Fresh Strawberry Pie? Will you have a slice?

The strawberries are ripe and this was the perfect recipe to use some of them! The cream cheese layer in the crust really added a nice flavor. Then, pouring the filling over the fresh berries gives you a mix between a cooked filling and a fresh filling. This is an excellent recipe! I will make this one often, I have a lot of strawberry lovers! Thank you Bev!!
Mash enough strawberries to measure 1 cup.
Mix sugar and cornstarch in 2-quart saucepan.
Gradually stir in water and mashed strawberries (add 1 or 2 drops food color if deeper red color is desired).
Cook over medium heat, stirring constantly, until mixture thickens and boils.
Boil and stir 1 minute; cool.
Beat cream cheese and lemon peel until smooth; spread into baked and cooled pie crust.
Fill crust with remaining strawberries.
Pour cooked strawberry mixture over top.
Refrigerate about 3 hours or until set.
Store covered in refrigerator.