Fresh Peach Cobbler Slow Cooker Style
katew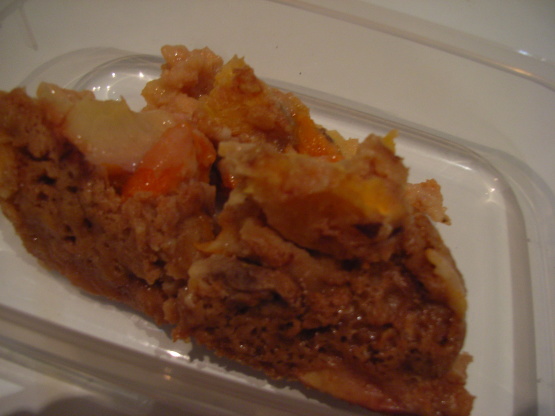 made last year, and had this on file. Very good dessert to serve at a party, or just at home. Very easy to prepare.
My peach cobbler did not end up looking like the picture. I cooked it 4.5 hours on high and it never really set up. My peaches were very juicy. That said it had a wonderful flavor, I will make it again soon and see what happens . I used Bisquick and maybe that was my problem. This in no way was the recipe's fault.. Ifanyone has a Idea what I did wrong PLEASE let me know
Prepare slow cooker with vegetable cooking spray.
In a large bowl, combine sugar, and baking mix, stir in eggs, vanilla, evaporated milk, and butter. Mix well.
Fold in peaches and pour into slow cookerand stir well.
Cover and cook on low for 6-8 hours, or on high for 3-4 hours.
Serve with warm peach ice cream.