Fresh Mozzarella Cheese With Tomatoes Basil & Olive Oil
Rita~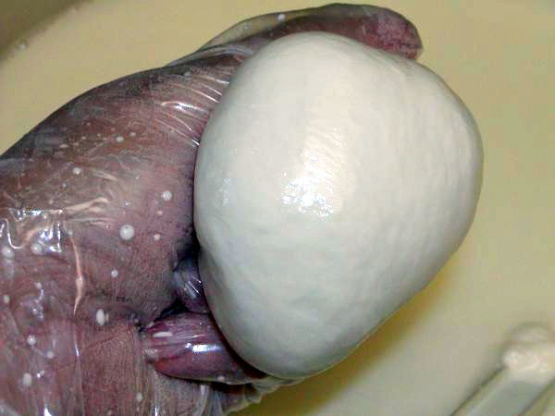 Making fresh mozzarella is something that takes a little practice but, once mastered, it is truly a satisfying craft.The pictures are my first time making and it was fun.The tomatoes and basil are optional this is posted for the cheese! I do have this posted Basil, Tomato & Mozzarella Cheese Basil, Tomato & Mozzarella Cheese without the cheese making.
I haven't made it this way, yet, but I want to try this now. I just wanted to say that homemade mozzarella is the BEST!! I make it with milk and separate the curds & everything. When I got started, I first used the "30 Minute Mozzarella Kit" from Cheesemaking.com. It's really a fun thing to try, and very good! I'm excited about this new recipe to try. :)
3

gallons water, divided

3

lbs whole milk mozzarella curd (available at specialty Italian markets)

4

tablespoons salt, divided, plus more for serving
tomatoes, sliced, for serving
basil, for serving
extra virgin olive oil, for serving
In a large pot, bring 1 gallon of water to a boil.
In the second pot bring 1 gallon of water to warm to almost a boil.
Place 2 tablespoons salt and as much ice in the third gallon of very cold water in a large bowl.
Break up the mozzarella curd into small pieces. Coat the curd with 2 tablespoons of salt, and set aside.
This is where it gets a little tricky. Carefully pour the boiling water over the salted curd. As the curds begin to melt, carefully stir with a wooden spoon when it becomes one transfer it to the pot with the warm water. I wear gloves because the water is hot and needs to be that way to stretch the mozzarella in hot water. The curd will have settled into the bottom of the bowl, and at this point you have to work quickly or risk over-cooking the curd. Using the wooden spoon stir and stretch the mozzarella. By stretching the cheese you insure that all the curds have completely melted. The curds will become incredibly soft and have buttery shine, and also, it smells wonderful. At this point I place the curd in the second bowl of warm water so not to have the cheese get to tough. Form the mozzarella into tomato size balls or larger, your prefrence and then drop the mozzarella into the salted ice water to stop the cooking process. Work quickly, as the mozzarella will start to become rubbery the longer it sits in the hot water.
Wrap each mozzarella ball tightly in plastic wrap and store in the refrigerator for up to a week. If it doesn`t get eaten before that.
Serve the cheese with garden feresh tomatoes & fresh basil, extra virgin olive oil, salt and fresh cracked pepper.