Sara 76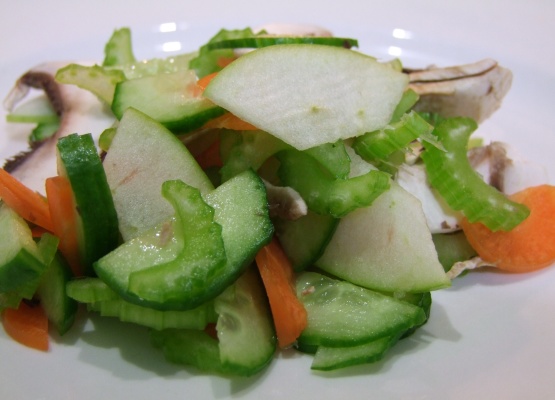 My kids love this yummy, fresh salad, with it's crunchy vegetables and the sweetness of the green apple. Best made just before serving, or the mushrooms will start to get soggy, and the apple will turn brown. My kids prefer it without dressing, but you could use a vinegarette, or a lemon yoghurt dressing if you prefer. This recipe serves 2 as a side dish.
Made this when my vegetarian son & DIL were here for lunch so more or less multiplied the recipe by 4, using a large Granny Smith apple, 6 button mushrooms, a 6" cucumber & a good size carrot! Really enjoy preparing a recipe that includes raw mushrooms, & this one makes for a very tasty salad! Thanks for sharing it! [Made & reviewed in I Recommend recipe tag]
Cut the carrot and cucumber in half, lengthways.
thinly slice all vegetables and apple.
Toss to combine, and serve as a light lunch, or as a side.