Tam454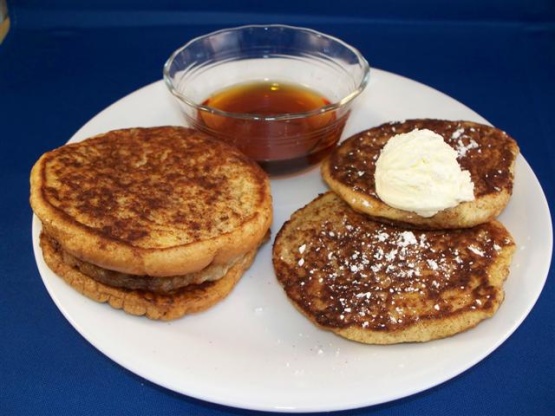 We hosted hamburger barbeques on the weekends and never knew how many people were going to show up, so we always bought extra. Many times we were haunted with leftover buns. I came up with this tricky way of using them up.

Top Review by okpat1
Great idea. I just got home from the store with a pack of hamburger buns....we will probably only use 3 tonight. When I freeze the rest they just get lost in the freezer. I've thought of making bread crumbs but I'm going to try this recipe on Saturday instead.
Separate buns. With a serated knife, skim off the top or bottom crust from each of the buns. Set aside. Cook sausage patties according to directions. If you have bulk sausage, form into bun size patties. In flat bottom bowl, mix eggs, milk, sugar, salt, and vanilla.
Preheat griddle to med-low heat (or about 325°). Lightly butter griddle. Briefly soak each bun on both sides and place onto griddle. Sprinkle cinnamon on the top of each of the bun. Cook until golden brown on each side.
Take two pieces of the french toast buns and place a sausage between the buns. You now have french toast to go. Or, you can serve it the traditional way with butter, warmed maple syrup and powdered sugar.