French Seafood Sauce, With Prawns!
Zurie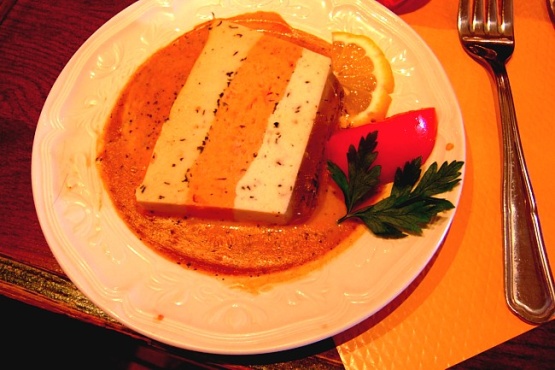 I've always come back from France with food snobbery ... which has to pass quickly when I'm confronted by everyday reality!! At a perfectly ordinary restaurant in Paris (we could not afford haute cuisine!) I had a fish terrine in three colours, very delicate, with a pale orangey seafood sauce which was sublime. The French do not waste food, and it was clear that the basis of the sauce was stock/broth made from shrimp or crab or lobster shells. This was my take on it, back home. I shelled the prawns to get my stock base, and lightly fried the shrimps/prawns and served it over fettucine. It was delicious. As you can see, the ingredients are quite simple, healthy and low-fat. The recipe is about the sauce, really, and MY PHOTO IS OF THE TERRINE we had in Paris: NOTE THE SAUCE.
2

lbs large shrimp (1 kg)

3

cups water (750 ml)
1⁄3 cup lemon juice, freshly squeezed (100ml)

2

carrots, large, cleaned and cut into rounds

1

medium onion, peeled and chopped

3

medium tomatoes, ripe, peeled and chopped

2

potatoes, large, peeled and cut into 3 pieces each

2

teaspoons sugar (10 ml)
1 1⁄2 tablespoons Thai fish sauce (27 ml approx)
1⁄2 cup fresh parsley, roughly chopped (125 ml)

2

garlic cloves, peeled and chopped
1⁄2 teaspoon hot pepper sauce (3 ml)

4

tablespoons sour cream or 4 tablespoons creme fraiche
Clean the shrimps by rinsing well under a cold tap. Use a sieve or colander for this. Shake off excess water.
Clean further by cutting down the back with any scissors. Remove the blackish vein, if any: is easiest to use kitchen paper to work on and scrape the vein on to that. Discard the paper when finished.
Peel the shrimps and carefully pull off the skins and the head, and put in a separate bowl. Do NOT press out the gunk in the head. It won't kill you and will add to the flavour of your stock. You want all the peels and the heads.
Cover and keep the cleaned shrimps to cook later.
Put the water, lemon juice and shrimp/prawn peels and heads into a large heavy-bottomed pot.
Add the prepared carrots, onion, potatoes and tomatoes, and stir through.
Bring to the boil.
When the stock comes to a rolling boil, turn down the heat, put on the lid, and simmer for about 20 minutes.
Add the sugar, Thai fish sauce, parsley, garlic and pepper sauce. Stir and let simmer another 10 minutes.
*Please note that I did not measure everything carefully. I was trying to imitate a recipe, so I guessed some quantities. I might have used more fish sauce than stated, and also more sugar. I used local piquanté pepper chutney instead of a hot pepper sauce. So there might be little differences between your results and mine. DO taste -- the fun of cooking lies in experimenting!
Using a very fine sieve, strain the whole pot into a bowl. Don't let any shrimp peels fall into the stock.
You will have about 3 cups of stock or more.
Now add back into the stock the potato chunks (or as much as you can, as some would have disintegrated) and the carrot chunks.
Taste it: it will need more salt, or a seasoning salt of your choice.
Put it in a processor or blender, and blend until the vegetables have slightly thickened the sauce. Add the cream and whizz again.
Use only the amount of sauce you plan to use for your dish, i.e. 1 cup for pasta for six people. Cool and freeze the rest for another day.
Taste again to see whether you'd like to add more salt or maybe even a little (real tomato) ketchup, or pepper sauce.
I haven't yet attempted that fish terrine, but the sauce was great over fettucine, with the shrimps which were simply fried in olive oil, with seasoning.
Add a green salad of mixed small leaves -- mesclun, as the French say. And don't forget the chilled white wine: a sauvignon blanc ought to do it -- .