Bergy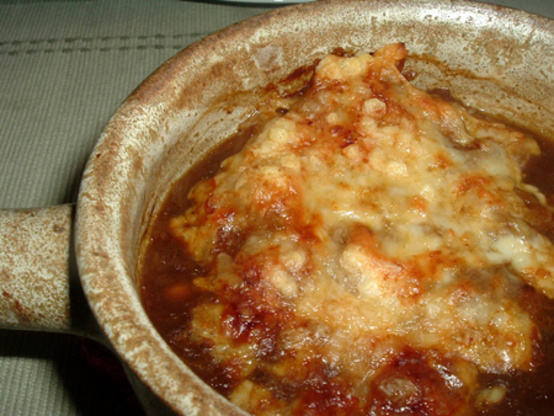 One last comfort food for January.

This was a very nice Onion Soup, however, for our preference the grape juice made it just a little too sweet and I only used 1/2 the amount stated due to calorie concerns. I also used Provolone cheese as that is what I had on hand. Thanks for sharing. Made for Cookbook tage gaem in the Game Forum.
In medium saucepan, heat butter and saute the onions on low heat for 20-30 minutes until soft and golden brown, stirring often.
Add the garlic, thyme, salt and pepper and cook another 4-5 minutes.
Add beef broth and grape juice.
Cover and simmer for 15 minutes.
Taste for seasoning.
(Can be made ahead up to this point.) Preheat oven to 400 degrees.
Place soup in 6 ovenproof bowls.
Top each bowl with a slice of French bread and about 1/4 cup grated cheese.
Bake for 5 minutes until cheese has melted.
Serve at once.
Serves 6.