Authentic French Onion Soup Courtesy of Julia Child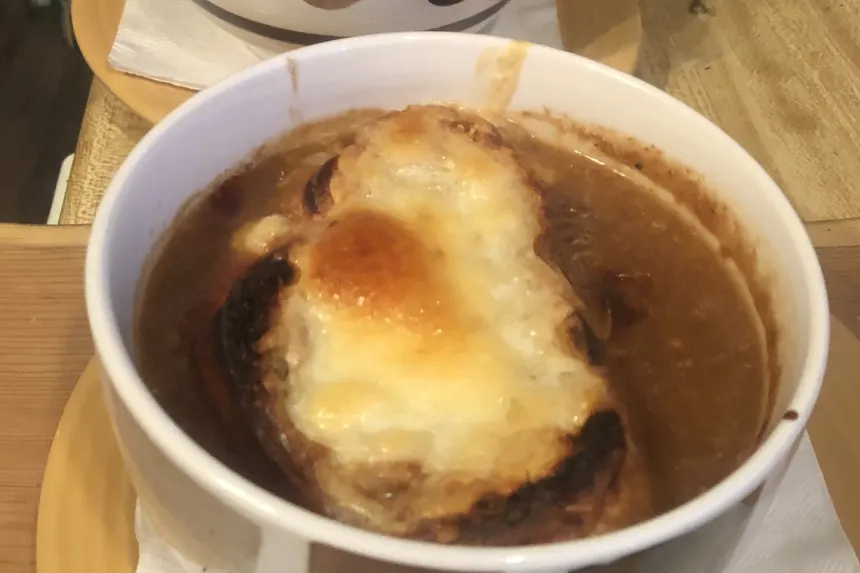 photo by Kevin B.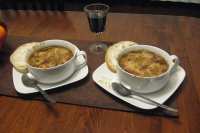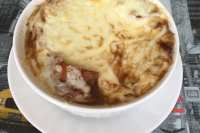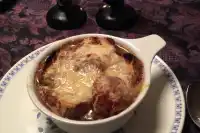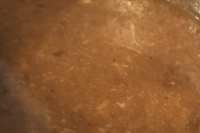 Ready In:

2hrs

Ingredients:

15
ingredients
5 -6

cups yellow onions, thinly sliced (about 1 1/2 to 2 lbs)

1

tablespoon cooking oil

2

tablespoons butter
1⁄2 teaspoon sugar

1

teaspoon salt

3

tablespoons flour

6

cups beef stock (preferably homemade)

1⁄2 cup wine (dry white wine or dry white vermouth)

salt and pepper

12

ounces swiss cheese, grated

4

ounces parmesan cheese, grated
one half raw yellow onion

2 -3

tablespoons cognac

8

slices French bread (about 1 inch thick)

4

tablespoons olive oil, for drizzling
directions
Place heavy bottom stock pot or dutch over over medium-low heat.
Add 1 Tbs cooking oil, 2Tbs butter to pot.
Add sliced onions and stir until they are evenly coated with the oil.
Cover and cook for about 20 minutes until they are very tender and translucent.
To brown or caramelize the onions turn heat under pot to medium or medium high heat.
Add 1/2 tsp sugar and 1 tsp salt and continue to cook uncovered, stirring frequently until the onions have browned and reduced significantly.
Once caramelized, reduce heat to medium-low and add 3 Tbs flour to the onions.
Brown the flour for about 2-3 minutes trying not to scorch it. (If the flour does not form a thick paste, you can add a bit more butter here).
Stir in about 1 cup of warm stock, scraping the bottom of the pan to get up all of the cooked-on bits.
Add the rest of the stock, wine to the soup.
Simmer for 30 minutes.
To make the "croutes" (toasted bread), heat oven to 325 degrees F.
Drizzle each side of the bread slices with a bit of olive oil and place on baking sheet.
Cook the croutes for 15 minutes in oven on each side (30 minutes total).
Check the soup for seasoning and add salt and pepper if needed.
Transfer to a casserole dish.
At this point you can add the 2-3 Tbs cognac and grate the 1/2 raw onion into the soup.
Add a few ounces of the swiss cheese directly into the soup and stir.
Place the toasted bread in a single layer on top of the soup.
Sprinkle the rest of the cheese in a thick layer on top of the bread making sure to cover the edges of the toast to prevent burning.
Drizzle with a little oil or melted butter.
Place in a 350 degree oven for about 30 minutes.
Turn on broiler and brown cheese well.
Let cool for a few minutes.
Bon Apetit!
Questions & Replies

Reviews
This is by far the best French Onion Soup recipe I have come across!! I've made it three times in two weeks because my DH has requested it that many times. This is the same guy who used to not even like onions!! Don't be daunted by the long list of ingredients! This recipe is actually really easy to make. You're (basically) putting everything into a pot to cook and then toasting up some bread and cheese to make it even more amazing. It does take a little time to prepare but the soup is so worth the effort. I actually add the wine before the broth because I find that it is easier to deglaze the pot with wine. It also lets the wine cook off just a little bit. Either way, this recipe is phenomenal. Thank you so much Anita for sharing!!!

 

Very, very good recipe, but I would tweak it this way... Do not use sage.... use thyme. Never add sugar... the onions will be sweet enough. Instead of Swiss cheese and Parmesan, use Gruyere. Toast the bread slices, then place 1 or 2 in each individual crock of soup. Top the toasts with a slice of Gruyere, then place a small handful of grated Gruyere on tip of the sliced cheese. Place under the broiler until the cheese is melted, bubbly, and golden on top. Serve. The Gruyere is not as "bitey" as swiss, but still has some tang to it.

 

I have always used Julia's recipe for onion soup,but,I usually omit the flour part,as I think it takes away from the onion soup flavor..The color is a more creamy brown then I like.I like the clear broth..Also,my mother in-law grew up on a farm I. France,she says always use a mix of chicken broth and beef broth..Which I do ,and,it gives it a nice clean taste with the onions..However,She also reccomends using the blood of a fresh killed chicken too..Which I am not apt to try!

 
Tweaks
Excellent recipe, I had one that is very similar shared with me from a french friend. I do have a couple tweaks I learned while in eastern France if you choose to try this a few more times. First, caramelizing the onions enhances the sweetness, especially when using real butter so I left off the sugar in this recipe. Second you can play with beef stock and red wine verses chicken stock and white wine/vermouth. As for the comment about too salty, chances are that was the stock was store bought and not low sodium. If you make the stock from scratch you increase the depth of flavor and you have control over the saltiness. A perfect winter addition alone or as part of a dinner.

 

I was craving French Onion soup the other day and ordered it in a local restaurant on Cape Cod. I was terribly disappointed. The onions were only steamed and the broth tasted way too salty with no flavor. I decided Julia would have a better recipe so I am overjoyed with the results. Many of my friends are gluten intolerant so I substituted white rice flour for the wheat flour and I am a virgin olive oil junkie so I exchanged my favorite spanish one for her butter. I trust Julia my Food hero would understand. With a respect for healthy food, Lori

 

This is absolutely fabulous. I will never use another French Onion recipe again. I would give it 10 stars if I could. I added kitchen bouquet to my broth as I didn't have any homemade. I also used a good whiskey instead of cognac as I didn't have cognac. I used a good Cabernet for the wine. I didn't add the raw onion as my husband can't eat raw onions. It is so worth the time to make it and more...

 
RECIPE SUBMITTED BY
I am a seafood fanatic and am always eager to experiment with new dishes. I love exotic flavors from around the world. I think that seafood pastas are my specialty. I haven't eaten meat for nearly ten years and have therefore developed quite a repertoire of vegetarian and seafood based dishes. I also cook for a meat-loving boyfriend who is open-minded but not entirely on board with what he calls "hippy food", so I love the challenge of creating healthy food that tastes really good. I try to be aware of where and how my ingredients are produced. I try to cook in season but I am especially concerned with the sustainability and purity of the seafood that I use. Check out the Monterey Bay Seafood Watch for regional guides to buying seafood responsibly (see my web sit below). I have many original recipes that I improvise but I am trying to nail down measurements and cooking times in order to publish on zaar.
View Full Profile